Running Simulation with Control Panel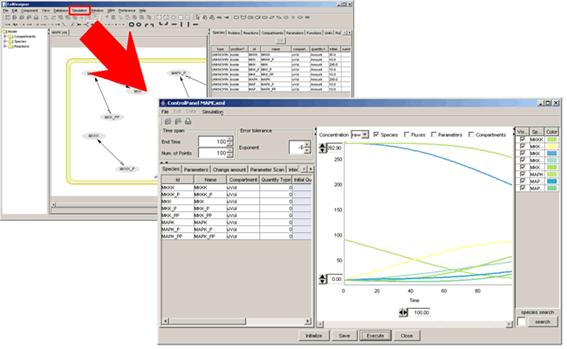 The "Control Panel" is designed to assist the users to simulate directly from CellDesigner controlling the amounts and parameters of the Species.
Calling SBML ODE Solver directly from CellDesigner, ControlPanel enables you to specify the details of parameters, changing amount, conducting parameter search, and interactive simulation with intuitive manner.
See also: "Running Simulation with Control Panel" (PDF version)

Database Connection - New Addition
On top of the existing connection to the databases, CellDesigner now support the connection to iHOP, which is a public service provided by the Protein Design Group. National Center of Biotechnology (CNB), Spain.
iHOP (Information Hyperlinked over Proteins)